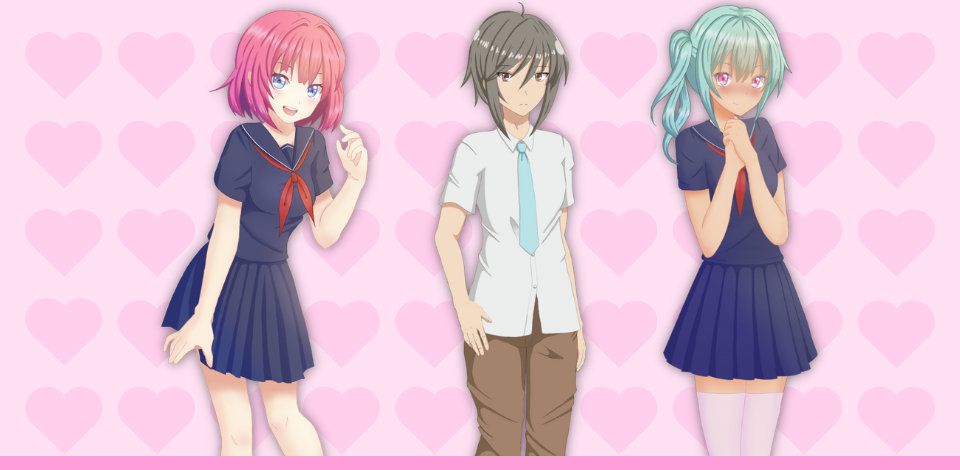 My World - Remastered
A downloadable game for Windows, macOS, Linux, and Android
My World - Remastered
An ordinary Dating Simulator.
This is a totally normal dating simulator where you can choose the main character's gender and the one of your partner.
You try and have a normal day, but then something unfortunate happens. Your art teacher pairs you up with what you consider to be the worst person in your school. You wonder how things will turn out for you as you try and cooperate with this student.
Are you going to have a really bad time as you expect, or are things not going to be as horrible as you imagine them to be.
This game was inspired by Doki Doki Literature Club.

This game is not suitable for children or those who are easily disturbed.
---
Liked the game?
You can buy me a coffee for 1$ on ko-fi.com or you can donate here any amount you want to show your support.

Just press the Download button and contribute a payment of however much you'd like.
Also, please DM me on Twitter @IntStories45 if you find any bugs! I would really appreciate that!
Credits:
---
About the source code:
The source code costs 5$.
If you buy it you can learn how to program some of the effects I've achieved using Ren'Py or you can expand the game further (make mods).
What you cannot do is upload the code to another website as it is without changing anything and claiming you wrote this very code. The source code does not come with the fonts, the audio or the art (background and character sprites) - if you want to use them you can download them from the links above.
If you have further questions about what you can and cannot do with the code comment them down below.
The source code was written using Ren'Py.
| | |
| --- | --- |
| Status | Released |
| Platforms | Windows, macOS, Linux, Android |
| Rating | |
| Author | IntStories |
| Genre | Visual Novel, Interactive Fiction |
| Made with | Audacity, Krita, Ren'Py |
| Tags | Dating Sim, Gay, Horror, Lesbian, LGBT, Otome, Psychological Horror, Ren'Py, Romance |
| Average session | A few seconds |
| Languages | English |
| Inputs | Keyboard, Touchscreen |
| Accessibility | Subtitles |
Download
Click download now to get access to the following files:
my-world-remastered-win-linux.zip
89 MB
my-world-remastered-osx.zip
74 MB
myworldremastered.com.uk-release.apk
92 MB
Character Sprites (by NoranekoGames) with Edited Eyes.zip
775 kB
Thank You for your Donation Card.png
254 kB
if you pay $1 USD or more
My World Remastered - Source Code.zip
3 MB
if you pay $5 USD or more
Comments
Log in with itch.io to leave a comment.
Great job on the game. Gave me a few laughs and nice creepy moments at times too
Is it possible to get a good ending in android version without editing text files?
Can you enable the "Claim" option? Thanks!
How do u find the files on android i couldn't obtain the secrets
Ţ̵̥̮̬̪̻̘̰͍̮̝̤́͗̀̓̊́̆̃̓h̶̛̘̫͖̻͖͉̽e̸͙̮͔͚̠̝̿̀̈́̔̆ ̷̛̦̣̌́͆̿̔̈̂̈́̿̈́͐̚g̴̫̰̣̲͕͎̲̠̺͆̑̑̎̋̚ả̸͇̮͈̖̗̳̤̥̩̻͉̩̻͑̆͒̂̽m̵̛͕̫͖̰̼̲̂̉̏ę̸̡̡̦̗͉̩̤͌̂̅͊̀͒̎͐̽͘͝͝ ̴͍̖̪͇͗̉̒̓͗͂̀̐̊͗ͅì̶̢̢̨͚̠̩͇͍͕͖̅̌̐̾́̐̋̊̃̓̕͝s̴̞͔͕̞̝̖̺͈̗̥̠̮͠ ̷̝̾̅̊̂̈́̑̑͑á̴̧̺͓͙̝͚̘̳̎̈́͆̈̅̾̈́͑͠͝b̶̨̨̞̜̼̲̪̱̙̖͐̇͋̄̀̍́̀̓̊̓͜͜o̵̹̬̭̥̲̙̥͕̝͈͉̠̎͆̇̈ů̶̝̃̀̏ͅt̵͓̺̠͕̾͌̓͐ͅ ̵̞̘̗̼̬̬̟̥̤͑͆̀̂͛̉̒͐̂͝͝d̸̥̞͔̻̟̹͓͎̥̰͋͛̒̋̾̈́̕͘͝͠͝͝ḁ̵̢̨͍͈͙͚͍̉͑̄̾͑͆͋͂̅̐̽̈́ͅt̷̛̛͎̳͙̤͍̃̿̈́͛͌ͅi̶̜͑͊̉́̓̔̒̋̚ņ̸̧̰̠̫̘̠̔̿̒͊̆̏̓̅͘g̸̡̩̯͍̹͉̓́̔̍͌͑͊̀͗͠͝ ̴̧̥͕͈͎͖̹̖̪̾͒̌͒̾ͅS̵̨̨̡̨͓̲̻̺̲͎̜̍̔̍͋̒̒e̷̛̝͍̻͔͎̯͔͍̯̘̍̂͒̔́͝l̵̩͎͇̏̽͜ͅé̸̖̩͖͕̆̈́͝n̶̢͙̲͓͈̬̩̉̊́̔͆̅̃͐̈́̚a̷̩̳͒͐͋̇͊̒̓.̷̧̨͔̹̟̠̺̭̞̋̾͂̀̎̈̀̕͝.̶̼̬̮̹̥̥̙͇͉̱̄̇̔̀̕.̵̢̜͈̺͍̼̦͓̥̻̬̈́̆̑̍͜͝
You left a slash in the wait tag on line 293. Errors the game

Edit: Line 469 also has a scuffed wait tag

i played with the game files thought i could find a secret ending XD
Thanks for the idea! I did just that right now!
wow thank you now i can do my magic...

edit : i found it and it gaves me goosebumps
hint for all the dum dums?
SPOILER:
delet the white file next to the game called memory or something
and open the game
i will try it and by the way tyler is a girl?
Anna is the female character. Tyler is the male one.